Gesehen auf https://www.ostsee.de/baltic-sea-germany/travel-holiday-regions.php am 08.12.2023
Places and islands
The German Baltic coast is more than 350 km (217,5 miles) long. Haff and Bodden (specific coastal inlets around the north eastern part of the German Baltic Sea) add another 1,350 km (839 miles). The coast offers a picturesque sight with its islands, peninsulas, bays and inlets, steep rugged cliffs, peaceful natural stony beaches and ingenious white sandy, blue flag beaches.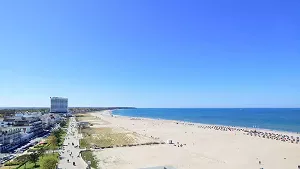 More than 180 places along the Baltic coast await you to be visited and discovered: tranquil small fishing villages, modern seaside resorts and spas, historical ports and Hanseatic cities.
In smaller places, holiday makers occasionally outnumber the permanent residents in peak season whereas in the bigger towns and cities like the Hanseatic city of Rostock or Kiel, the capital of Schleswig Holstein, live up to 250,000 inhabitants.
The Baltic Sea is easily accessible by car. The motorway A20 runs parallel to the coast. In northern direction take the motorways A19 to Rostock, A1 to Luebeck and A7 towards Flensburg. It is no trouble to travel along the Baltic coast from Flensburg in the west to Heringsdorf on Usedom Island in the east in one day. However, take your time to let the beauty of the places and scenery sink in.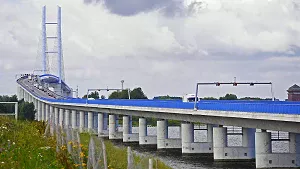 (no responsibility is taken for the correctness of this information)