Gesehen auf https://www.ostsee.de/baltic-sea-germany/beaches.html am 30.09.2023
Beaches
The German Baltic coast is well known for its beaches. Wherever you are along the Baltic coast there is hardly any tide, the movements are barely noticeable. In the west it still measures a few centimetres getting less and less the further east you go.
In the seaside resorts you can find white sandy, blue flag beaches while natural stony beaches, steep rugged cliffs, peaceful parts, bays and inlets are also dotted around the coastline, islands and peninsulas.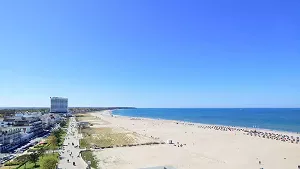 Especially families with small children will love our beaches. On most of them the water is very shallow. Therefore it is an ideal place for the little ones to play, dig or build sandcastles on the water's edge.
Visiting the Baltic Sea, you can't miss the unique wicker beach chairs. They are perfect for enjoying a holiday on the seaside sheltered from the elements, sun and wind that is. You can rent these fabulous comfortable beach chairs either on an hourly or daily basis.
In the summer months beaches are guarded by lifeguards. Nearly every seaside resort has parts of their beaches reserved for nudists, called FKK beaches. Here you can enjoy sun and sea water on your bare bodies, away from onlookers.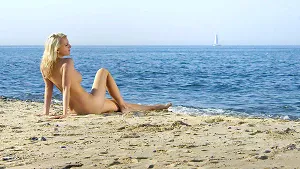 In peak season, from May to September, dogs and their owners may enjoy the Sea on specially marked out beaches. However, the rest of the year dogs are allowed pretty much everywhere along the seaside.
Some beaches are even signed out as bridal paths. Particularly in spring and autumn, when the number of sun seeking holiday makers is reduced, the Baltic Sea is a paradise for wind and kite surfers. Stop and take a few moments to watch their wild rides, spectacular moves and enormous jumps.
Visiting the Baltic coast in Germany, enjoying romantic sunrises and sunsets on its beaches is a must in warm summer nights.
(no responsibility is taken for the correctness of this information)